Aldo's Shutters & Blinds had been in business a few years and weren't happy with the performance of their website. They were first timers when they had the website built and were ready for a redesign that was going to help them grow their business.
---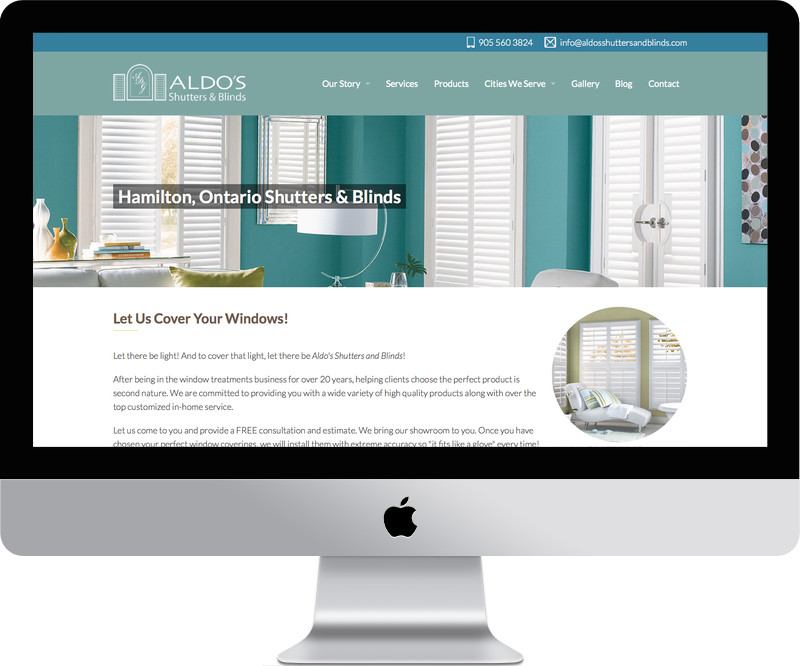 Aldo and Dennis are married and owners of Aldo's Shutters & Blinds which specializes in designing and installing custom window treatments for your home. Dennis came to us because she was tired of their old underperforming website and knew it was time for a change. For starters, their old website didn't use a content management system so she had no way of being able to update the site or get into blogging. The site also suffered from a lot of on page search engine optimization mistakes which was holding it back from ranking well in search engines.
Like a lot of small, local business owners, for their first website they had gone the cheap route hiring some younger guys to make it for $300. Dennis knew it was time to invest properly into redesigning the website and turning it into a lead generating website for their business.
We worked closely with her to create a modern and clean design that spoke to their target audience. Since launching the site, one client who contacted them specifically stated they were contacting them because of how much they liked the look of the site. The visual design of a site is definitely one of the factors people use in determining whether to do business with a company.
All their pages and content were rewritten and some new content was created as well. We created specific city pages where they do business. This is a great technique for service based businesses who don't have a physical location and are looking to get noticed in Google for these cities.
The launch of the new site was a huge success and shortly after going live, they had their busiest month ever with new leads from their website.
See how your business can benefit with us on your team
You're done with gambling on generic Hamilton web design companies, and you want to hire a results-oriented company who understands you and your business. You want that company to know what "ROI" means, and why it's important to you and your project.
Ready to see how we can help grow your business?