Who Is Stack Electric?
A family owned business who had been operating for slightly over a year with a website they had created themselves with a pre made theme. They knew there was a lot more they could be doing to create a stronger local presence and generate more leads through their website.
---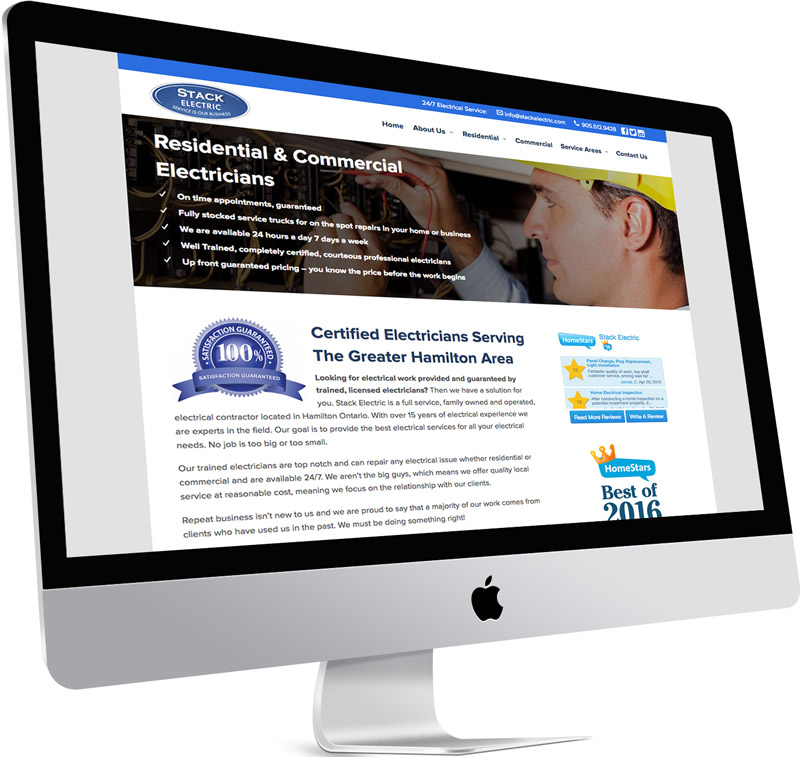 What We Did
After meeting with them and giving their website a full audit as well as doing competitor research, we created a plan to help them succeed that they were very excited to implement. 
We started by creating a new sitemap — the structure and pages on the website. We performed keyword research to see what potential customers were searching for when they needed to hire an electrician. This helped us plan what pages should be created on the site and how they should be optimized for both the user intent and to be found in search engines. We needed to make sure these pages answered the questions and gave the proper information for users.
We then created the content for these pages and made sure the information was factually correct by having Kevin and Tracie proof them.
The new design needed to be professional and trustworthy to instill trust into the users. The electrician industry does contain a lot of fly by night and uninsured and certified workers, so we needed to make sure users knew Stack Electric was a serious company they could trust to complete any work needed. 
We created and showcased a lot of 'trust signals'. Things like user reviews, their license and certificate information and BBB badge were prominently displayed to ease potential customers minds when deciding whether to contact them.
The site was also developed to work optimally in any device like a phone or tablet as well as a traditional computer.
Citations were also built out across the web. These are references to the business name, phone number and address. The goal is to place this information consistently on numerous quality websites to help create awareness of the company and also significantly help with local search ranking. 
Stack Electric also wanted to run a local Google AdWords campaign to target qualified potential  customers. Having never run a campaign before they were cautiously optimistic and excited to see how it could help. We assisted in creating a small targeted campaign which helped deliver qualified leads in the specific cities they were after.
The Results
A few months after launching the new website, business was way up. They started picking up organic search traffic from Google where as before they had none. Adwords was delivering a steady stream of new leads and users were leaving positive comments about the overall website.
In no time at all they were booking months in advance for new projects. We continue to work with them to make optimizations and updates to the website to expand the business even further.
See how your business can benefit with us on your team
You're done with gambling on generic Hamilton web design companies, and you want to hire a results-oriented company who understands you and your business. You want that company to know what "ROI" means, and why it's important to you and your project.
Ready to see how we can help grow your business?